Over the years it wasn't that unusual for Superman mythos to bring back the certain elements from different media back into the comics that inspired them. His Smallville youth, Kryptonite and even the phrase "Faster than a speeding bullet…" for example originated in the popular Superman radio serials of the 40's , and his ability to fly was first introduced in the famous Fleicher cartoons in the 50's (it was easier to animate flying than constant jumping he used to do).
Similarly early Christopher Reeve movies proved very influential too, General Zod's inclusion into a comicbook canon being the prime example.
From Superman: The Last Son of Krypton, art by Adam Kubert
On the other hand the final Christoper Reeve movie produced by non- other than Cannon Films– Superman IV: Quest for the Peace didn't prove that influential at all.  Quite the opposite the movie was often ridiculed for it's weak plot, cheap production, nonsensical super- powers and it's over the top villain Nuclear Man. Well, no more! At least on that last one. Cannon is now officially canon!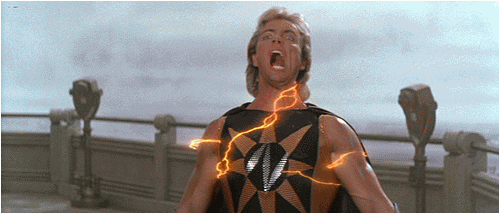 We're exited too!
After a challenge from fans and co leagues alike- starting with a sketch from Nick Derington (Doom Patrol, Mister Miracle) former Marvel (Spider-Man, Iron Man, Jessica Jones) writer
Brian Michael Bendis, now working on DC's Superman (Man of Steel mini- series, then Action Comics/ Superman) took it upon himself to make Nuclear Man an official part of  Superman mythos.
The tweet that started it all
This is the official Ivan Reis (Aquaman, Green Lantern, Justice League) penciled page from the Superman #02 that marks the first in-continuity comicbook appearance of the character. And it only took 3 decades for it to happen! For all you Cannon lovers who also dig comicbooks the release date is August 8. Mark it on your calendar.
Verdict: Even though  Mark Pillow's  acting was more WWE than DC  I always thought the costume design had something interesting going on, and as far as I can see it seems to work very well on the page. So, this should be an interesting one to read.

Update: Final version of the Superman #02- Nuclear Man appearance: