---
Movie starts with an illegal Kickboxing Tournament, a classic trope from the 90s. So far- so good. Now, what you would reasonably expect is that the star of this movie is this young, buff Karate student played by Ian Jacklin. Makes sense. Yeah, his acting is maybe not perfect but at least he looks the part of an action hero.
George calls his girlfriend who turns out to be a Police detective (didn't see that one coming). Unfortunately she wasn't helpful in tracing the mysterious number from the card So, next he tries to find the company with a Spade logo (like the envelope). He ends up in a seedy warehouse and you guessed it- get jumped by some bad guys! They try to "teach him some American maners" but he answers with some well placed kicks. Mustached villain tries to run away but George hunts him down and in the end he talks. Man behind the disappearance is called Verdugo (Jorge Rivera). That name seems to ring a bell with George.
He visits his master- fantastically long- haired George Lynch who explains that Verdugo can't possibly be alive because he was killed running drugs in the Golden Triangle. Turns out he actually survived and just got a cool- looking eye patch.
An being a true villain that he is he sends some goons to the George's dojo, he doesn't want anyone messing with his operation. Now, this is the fun part, his main henchmen is none other than Frank W. Dux (controversial Ninja/ Spy/ Creator of Bloodsport).
His blue belt tries to get involved and kid gets shit kicked out of him! I'm starting to think that George isn't such a great Sensei after all, I mean his students constantly act like dumb asses- he must be partly responsible.
"Nothing important- just your life"
Unfortunately Dux just threatens him with a gun and we don't get to see the fight between  the two. Too bad 'cause Dux was usually behind the cameras (Bloodsport, , Lionheart, Only The Strong) as a choreographer– it would have been interesting to finally see him in action for a change.
Police lady gets some info from her fat "hacker" friend and it turns out that George was the one one testified against Verdugo. Lynch spouts some more ancient wisdom to George as he gets prepared to end things between him and Verdugo once and for all.
Turns out his other student Garry also got invited some time ago so he uses that connection to finally track him down. Before the revenge he start training like crazy, full 80s style! His girlfriend doesn't seem entertained by that but he pays her no mind. She finally confronts him in late hours in his Dojo with words like "…what are you doing here, I never see you anymore" Remember kids Karate will wreck your personal life. Jorge solves things by sleeping with her right there on the dirty floor. I mean this dude's got only two ways of solving any problem: fighting and fucking and I don't know which is scarier.
We finally get down to business. Garry let's himself be captured by Verdugo goons.  George follows them and then makes a sneak attack on Verdugo's compound with a freaking crossbow! Man's got style.
After saving his student from what seems like certain death George challenges Verdugo and he gets shamed by his ritch friends to take the fight. Of course it turns out Sara followed George who followed Garry (everyone is tailing everyone here) and she shows up with the police to break things up. She kinda forgives George for going behind her back and they team up to fight Verdugo (and his evil Doctor Kramer).
Verdugo yelling "you ruined my career, you ruined my life" and George's answering "it was a shitty career" strike with a bit more truth than originally intended. But don't worry they don't get to meta- they get into a sword fight. Round 2: Begin!
My favorite thing is that no one takes George into custody despite of obviously murdering a man with a sword just minutes ago.
And all that with a journalists showing up before the arrests were even done with a TV Anchor spouting the names of every rich and powerful person watching the tournament. This lady's got more info than any other character in the whole movie, I'm impressed! She could have solved everything by herself- and without any bloodshed.
Verdict: Now, having an illegal Karate tournament revenge is not a bad plot by itself, we all love a good (and brutal) revenge story but when the said teacher is a skinny man from Macedonia with his English (let's not talk about his acting) leaving a lot to be desired for.
But if you look closely at the credits Jorgo Ognenovski actually wrote the story so that's not really shocking. Maybe the safer bet was for him to just write/ produce and maybe play a foreign villain. In that case this movie might have had a bit wider release, something in line with an average 90's Gary Daniels kickboxing movie.
For me the biggest treat of the movie was the legendary B-movie bad guy Richard Lynch here being all hilarious and awesome as a wise Martial Art Master. Having practically nothing to do with Martial Arts he more than makes up for it with his style (long hair and black kimono) and attitude.
Trivia: Of all things we expect to get in the movie like this, the biggest shock was a cameo from Frank Dux as a main henchmen of Rivero's character. I'm only disappointed that he didn't have any fight scenes. I mean you have the inspiration behind Bloodsport and you don't have him Dim Mak anybody? That's a shame!
Also, dojo scenes seem to be filmed in Dux's Dojo, you can clearly see his framed photo. Either that or Jorgo really loves promoting his enemies.
On the side note- in a classic Ninja fashion Dux's role isn't advertised and his name does not appear in his official IMDB page.So, it's like he was never there. Man, he truly is The Secret Man.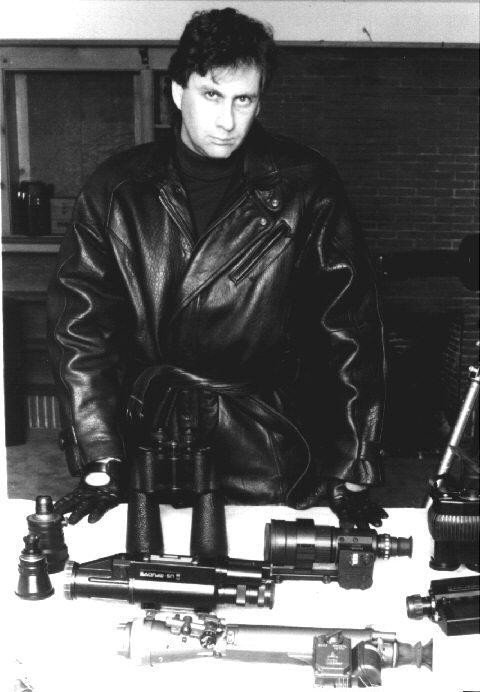 Trivia 2:
According to our research Jorgo Ognenoviski is in politics now and is actually an independent political candidate for the mayor of Bitola, Macedonia. Man, maybe he can give Arnold run for his money if he keeps it up!