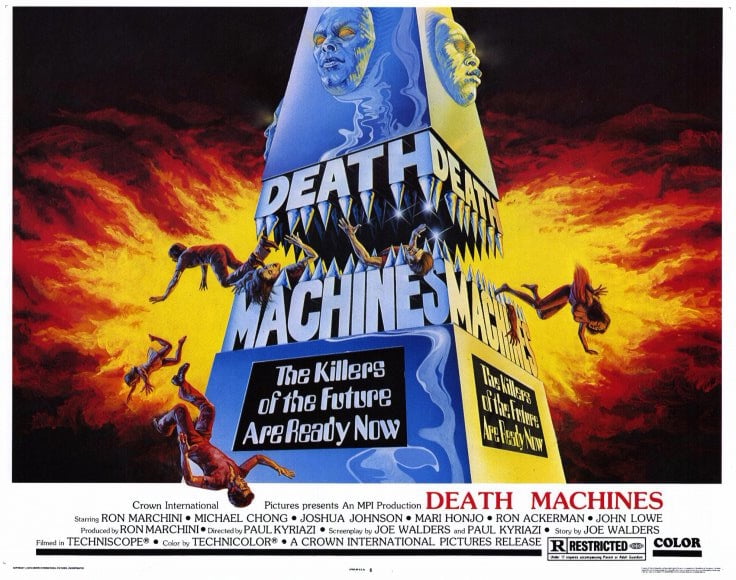 Movie starts with a trio of (ethnically diverse) fighters that are demonstrating their deadly abilities. After an OK from a stern looking Madam Lee (Mari Honjo) they are taken to a darkened room where they are injected with some sort of a super- serum.
Ron Marchini, Michael Chong & Joshua Johnson
They get going right away, disposing off criminals left and right, first by ramming a tractor in a phone booth, then continuing with a car into the Italian restaurant and then big finale- attacking a Karate school (that's a front for a drug dealing operation I believe).
https://youtube.com/clip/UgkxZtNEFXQw6ZCoyHBlszskKHulw0L2K8HA
Unfortunately they are all yellow belts.
'cause Death Machines are many things but Ninjas they aren't. Silent and deadly approach just doesn't work for them. They get in with as big BANG as they can. It would be a fair fight but I guess most of the Karate students are beginners so Machines start beating them like rented mules.
Madame uses their killing spree (and a basket with a decapitated head) to convince the main Mobster Mr. Gioretti (Chuck Katzakian) that they are only game in town if you need someone offed.
Things get complicated when it turns out that the blonde dude from the Karate Dojo Frank survived and they send the White Machine (Ron Marchini) to silence him. He ends up in the police custody but the concerned detective uncuffes him and whole hell gets loose!
Damn, there goes the police station!
After a hard days work Marchini goes to a restaurant to get a hamburger but ends up in the fight with some idiotic bikers. When we think that he finally has no more energy to keep fighting the rest of the Machines show up and clean up the place.
In the meantime Frank Thomas (John Lowe) goes back to the dojo where he got his hand cut off. Now if this was a Hong Kong flick he would dedicate himself to training and become stronger than ever. Hell, maybe he would be punching his opponents with a cool metal fist! No such luck here.
He is just super depressed and the only person who seems to care is his nurse who might be nice or just a stalker (jury still out on that). One of the most entertaining scenes is our hero Thomas taking his nurse to the seedy bar where he works. And I mean seedy enough that it has a stripper that dances next to the jukebox, every time the music plays.
An old drunk man punches out the owner, than the bartender and then demolishes the whole place (with a little help from a local biker dude) and then I guess goes somewhere else to continue his complete rampage. And no one can stop him!
I want a spin-off movie of this dude!
Beaten and even more depressed Thomas decides to leave town (with his nurse ofc) but they actually ran into Machine's car- he writes down the license plate, sends the nurse to call the police and goes after them.
Madam Lee decides that Machines have become a liability and they need to die but that's easier said than done. Thomas follows the car to her mansion and almost gets his head chopped off with a katana by Lee- but police arrives just in time to save him.
And Death Machines- they just got away with everything- they a re last seen at the airport. Remember kids if you're bad-ass enough police won't ever catch you.
Verdict: This movie defies the norms by not actually having a main character. It's actually very hard to classify Frank Thomas (John Lowe), as a protagonist. I mean he is a Karate yellow belt with a dead- end job and gets destroyed by everyone in every fight, from the titular "Death Machines" that's to be expected, but by an old man an a woman too. That's a bit too much. His only win was that he got and he successfully tipped off police.
Also we never find out what happened to the mysterious bearded figure that actually provided the super- serum for those killers. PS Jon T. Benn from The Way of the Dragon would have been a great choice.
The distributor bizarrely decided to present this as a SF movie (like Martial Arts weren't a thing in the 70's) which couldn't be further from the truth-but hey I do like the poster with the evil tower buildings showing their teeth.

Trivia: Marchini was a well known name in the Karate circles in the 60's and interestingly Chuck Norris earned his first martial arts tournament victory by defeating Marchini in the finals by a half a point. Marchini would go out to have a movie career for decades being lead in movies such as Karate Cop, Omega Cop and generally any movie that has Cop in it. Also some with Ninja in it too.