–
"Dragon" Wilson doing his best Liu Kang impersonation!
 As the movies thought us in all the way back in the 80's the peak achievement of science is bringing a hot virtual woman into the real world. In this movie it's brilliant Dr. Cameron that develops the procedure that can take a virtual character and imprint it's consciousness onto the cloned body. Naturally his first choices are characters from the popular CyberSex video game- nice and subservient girl Liana (played by the always charming Athena Massey) and dominatrix called Greta ( Dawn Ann Billings).
Comes equipped with her very own whip!
Besides being a horny old goat Dr. Cameron also has a solid business acumen- he tries to sell his ex- virtual babes to a greedy businessmen Burroughs right away. Unfortunately for him he ends up so caught up in his work that he fails to notice that another VR character is willing himself to a physical form– a final boss of the Virtual Combat game Dante (played by a chiseled, long haired Michael Bernardo). Soon enough Dante kills the old man and I was really sad to see him go, he might have been an old pervert but he sure was a brilliant scientist!
And how does he keep his Video Game powers in a real world exactly?
Now, Dante is none other the character that's been giving our here Quarry (Don "Dragon" Wilson) nightmares. You see Quarry is a Grid Runner ( a kind of a VR Cop) and he uses all of his free credits on just that game.  He could never get past Dante in the Level 10 of Virtual Combat. And to be honest, I do know how that feels like ('cause I'm that generation that grew up with Sega Mega Drive 2). Naturally a nightmare turns oh too real when Wilson's partner gets killed by Dante while tracking the girls.
Naturally Wilson vows to avenge his fallen partner even if that means disobeying a direct order by his boss.  To get to the bottom of things he starts fighting anyone and everyone that stands in his way (from the gang members to the cops!) and he even ends up throwing down with none other than suited- up Loren Avedon (The King of the Kickboxers,  No Retreat, No Surrender III) and I must admit going corporate did not diminish his impressive kicking ability one bit! On the flip side he didn't seem to keen to go running after Wilson so I guess suit does have it's limitations.
After all the battles he lays low in a shelter where by coincidence he finds a runaway ex-VR girl Liana. He doesn't immediately realize what he stumbled across but he gets her tracking neckless off of her and soon enough the rest of her clothes too.
Their moment of happiness didn't last long because Avedon and his goons managed to track him down. Even after putting up a fight Liana ends up captured again and  barely makes it out alive. Then to make things worse it turns out that the leak in the department was his boss all along! So he almost got killed again. Well, at least he managed to  dispose of the Dominatrix Greta vie repeated kicks to the stomach and she evaporated for some reason (I mean you never know with those cloned bodies, they don't make them the way they used to do).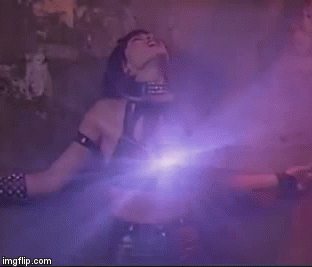 Ding-Dong! The Witch Is Dead!
Now, we finally get to the final confrontation and the interesting thing is- Dante speaks only trough the unique form of telepathic narration (Bernardo doesn't even move his mouth). Something like an omnipotent "Fight!" voice from Mortal Kombat whenever you see him frowning followed by a voice coming from out of nowhere.  Not really the reaction you want your Big Bad of the movie to project.
Now, in spite of all that, Bernardo shows some neat Martial Art movies and his fight with Wilson is good fun (even with all those cheese Special Effects thrown in for good measure) if not exceptional. "Dragon" also does some Bruce Lee tribute jumps and it all ends with badly animated laser blasts. Man, I do miss those in the modern movies.When all is said and done Wilson is back spending his credits on video games (he learned nothing?)- but now he's using them to hook up with Liana and that's definitely a better option than more of the Virtual Kombat!
Verdict: Generally, Wilson's more serious movies tend to get a little dull, so his SF phase actually strikes me as a breath of fresh air. He did more than a few SF movies (Sci-Fighter, Future Kick, Cyber Tracker) but man he should have done a lot more!

And if you want some more Bernardo in your life (this time with his actual voice) there's a pair of extremely fun and gory MMA style flicks Shootfighter: Fight to the Death and Shootfighter II that paired him up with the Karate Kid's William Zabka and Hong Kong movie legend Bolo Yeung. Those are awesome as hell!
Trivia: Omnipotent voice is actually Michael Dorn- Worf from Star Trek: Next Generation.  Actually a great choice. Too bad they botched it so much with the dubbing process.